Wahoo! It's Thursday again, which means it's time for another TMI Thursday post, brought to you by Simply T, the letter B for Booze and Bodily Functions as well as the letter L for the Lovely LiLu of
Livit, Luvit
.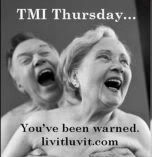 The rules? Well they're the same every week:
"

Join us all in humiliating the crap out of yourself every Thursday by sharing some completely tasteless, wholly unclassy, "how many readers can I estrange THIS week??" TMI story about your life. Or hell, about someone else's!"
So, I get to amuse you with another wildly inappropriate story of me doing something dumb. I know I have a lot of those, but I try to save them Monday-Wednesday and Friday-Sunday so that I can post them for you during TMI Thursdays!
Let's get down to the nitty gritty of today's TMI Thursday story, shall we?